About
Hahner Brothers Roofing & Sheet Metal Inc. was founded in 1939 by brothers George J. and Francis E. The two brothers had a dream to start their own business so they bought Hafel Roofing. From there the dream became reality. Since then, the dream had grown into a well established business overseen by a second generation of Hahners: Edward F., William M. and George J. Jr. The hard work, determinations and dedication of these five outstanding men laid the groundwork for the business to flourish. Presently the third generation (Edward M. and Scott M.) wait in the wings to continue the pride, dedication and commitment to quality workmanship that is, Hahner Brothers. Present management currently has over 140 Years of roofing experience.
Hahner Brothers has successfully installed millions of square feet of roofing over the past 66 years, allowing us to be the leader in residential, commercial and industrial roofing in the area. We have completed many historical restorations, government, school, local business, and residential projects. We are also well on our way to achieving Hall of Fame status with the nation's leader in single ply roofing, Carlisle Syntec.
Hahner Brothers also install most major types of built up roofing, single ply systems, shingles, tile, slate and metal roofing. We also install all types of gutter, downspout as well as siding and soffit. Hahner Brothers also boasts a fully complemented sheet metal fabrication shop to serve all of your sheet metal needs (pipe, ducts etc.)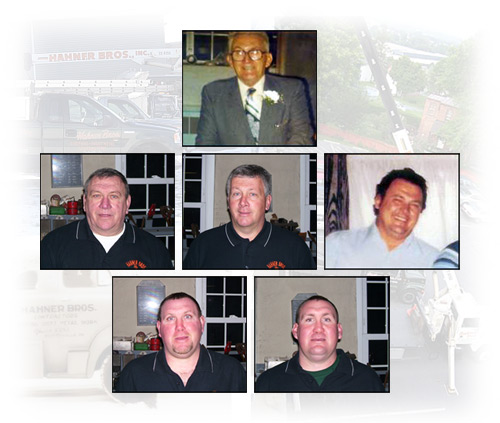 Hahner Brothers features only trained qualified roofers to ensure the very best for you project. We will also give our personal guarantee that a "Hahner" will always perform the work on your project to ensure quality control, the staple of our family business.